A DIY TRIP TO THE GALAPAGOS… ON A BUDGET
Everything you need to know to plan a budget trip to the Galapagos Islands
Our itinerary and costs, where to stay, cost comparisons and everything else you need to know
Sea-salt clings to eyelashes as we hurtle over deep turquoise water. Squadrons of sharp-winged frigates circle lazily as crested waves smash into a jagged coast-line. We're on a speed-boat, retracing Darwin's route around San Cristobal Island in the Galapagos, watching rain-clouds chase over vast expanses of wilderness.
Before we started our trip we were familiar with the name "Galapagos Islands", but apart from knowing they had something to do with evolution and Charles Darwin, that was about it. As we began researching our plan for South America & discussing it with friends, a couple told us that their visit to the the Galapagos had been the highlight of their trip - We knew we needed to know more.
Travelling the world for a year means the dreaded "B" word...Budgeting, and this doesn't mix particularly well with the Galapagos Islands (or with Steph for that matter who, is hopeless at it). This article is a little about our time visiting the Galapagos and how we managed to experience 6 phenomenal days there for under £750 per person inclusive of flights (trust us - that's a steal).
But first…
What, Where and Why?
The Galapagos are a group of volcanic islands 1,000km from the Ecuadorian coastline, the country to which they belong. The oldest islands began appearing 3 million years ago and there are now 13 islands and 17 islets spread over 8,100 square km. There are 4 inhabited islands with a combined population around 12,000.
The Islands' fame lies in its ecological diversity and uniqueness. Each island was seperated from the mainland (and each other) for thousands of years, leading to many differing species of fauna and flora as distinct from one another as each land mass. The stark contrasts between the animal populations of each was one of the key inspirations for Charles Darwin's theory of evolution - he could demonstrate that each species had adapted specifically for the environment of the island it belonged.
The Survival of the Fittest
"The Origin of the Species" was published in 1859 and the fall-out has been in school textbooks ever since. Darwins's observations were counter to the known scientific understandings of the time, still heavily influenced by Christian beliefs on creation (needless to say he wasn't very popular amongst the church crowd). Darwin was able to demonstrate with multiple examples that species follow an evolutionary process to adapt to their environment in order for them to survive and thrive. For example; the giant tortoise on some islands developed long necks and high "saddle" shells to allow them to graze from higher, sparse vegetation during dry seasons; Comorants lost the ability to fly as they faced no natural predators; and the finches of each island changed the shape and length of their beaks depending on the food sources available.
A Short History
The islands were discovered in the Colombian era (i.e. post colonisation) in 1535 by Tomas de Berlanga, who had managed to get himself lost between Panama and Peru. Important to note here that pre-Incan pottery has actually been found in the Galapagos meaning the Spanish can't take all the glory as the first humans to visit the islands. No evidence of pre-incan houses or graves have been located however, so it is thought that this was not a permanent settlement (maybe a shipwreck!?).
Charles Darwin visited the Galapagos in 1835 on his own round the world trip (great minds…) aboard a ship called "the Beagle", and was fascinated by the animals he found there.
Later, the islands became a haven for pirates and buccaneers, and then whale hunters. They were state-less until 1832 when they were claimed by the new state of Ecuador. It wasnt until 1968 that they were declared the "Galapagos National Park" and the Charles Darwin Research Foundation was set up to protect the ecosystems that had sustained heavy damage after 400 years of human intervention.
Fragile Ecosystems
The giant tortoise is the icon of the Islands, and has probably suffered the most at the hands of humans. These harmless giants can weight up to 700 kilograms and it's believed they can live up to 120 years. Their numbers were decimated by the pirates and fishermen after it was that discovered that they could survive for up to 6 months without food or water, and could be easily stacked upside down as a source of fresh meat for long voyages. Their numbers are recovering and stand at roughly 15,000, in no small part due to the work of the Foundation. Today the Islands receive more tourists than pirates but the tortoises face a new threat in mammals that have been introduced. Rats for example love to dig up and eat the newly laid tortoise eggs (something of a delicacy), and goats like to indulge in the occasional baby tortoise. The Research Foundation attempts to combat this through the collection of eggs from the beaches. They are then hatched and looked after until they are roughly 4 years old; large enough to no longer be prey for predators before being returned to the wild of their home island.
Lonesome George became a mascot of the Islands as the last remaining of his species from the Pinto island, but unfortunately passed away in 2012 despite the facilities efforts to mate him with a females from a closely related species.
Super-Diego is the new mascot, an aldult male tortoise from Isla Espanola - and he is thriving. At last count he has fathered 800 children and has single (male)handedly brought his entire species back from the brink of extinction. Nice work Diego!
Before we share our guide to DIY Galapagos - a few top tips before you go!
Galapagos: Must-Know Before you Go
There is a $20 pp tax paid at the airport of departure and then a further $100 pp entrance fee on arrival (£93 pp total at Dec 2018 exchange rate)

As the islands are a fragile ecosystem, they have strict rules on what can be brought in. No food or drink is allowed through, and if you've been hiking make sure that you have cleaned your boots of mud (or you'll be forced to clean them over a small bin with the worlds tiniest brush until the guards give their approval).

There are 2 airports on Santa Cruz and San Cristobal, and there are ferries between the main islands that have a set price of $15 (£11.50) and take 2 hours leaving twice a day.

Galapagos animals have no fear of humans and they get everywhere...the locals suggest following a 2m rule and avoid touching them (especially babies which may be abandoned by their mothers if they smell of human).

There's no two ways about it - The Galapagos Islands are expensive. The usual way to see them is by cruise but a DIY trip is possible!
How we approached the Galapagos Islands and our trip
Let us start by saying that without doubt the best way to experience the Galapagos islands is by doing a cruise…we'd recommend a 14 day tour of all the islands on a luxury ship. This will set you back by between $4,000 -$6,000 per person if you pay full price. Sweet.
If you're flexible with dates then it's also possible to get last minute deals on cruises both via agencies in mainland Ecuador and in the main towns on the islands. The best deal we saw was a '50% off' special, special price of $1,000 pp for 4 days on a budget boat. We're a couple so that would have been $2,000 (approx £1,550) excluding our flights and entrance fees.
And then there's the final option: The DIY trip.
Let's be clear, you are unlikely to have the same experience as you would have on a cruise (for instance seeing fewer islands), but don't be afraid, you can still have an unforgettable experience for significantly less PLUS get to determine your own schedule, hunt out the best places to eat & drink, and have the option to sack it all off and spend a day on a fine white sand beach if you so feel…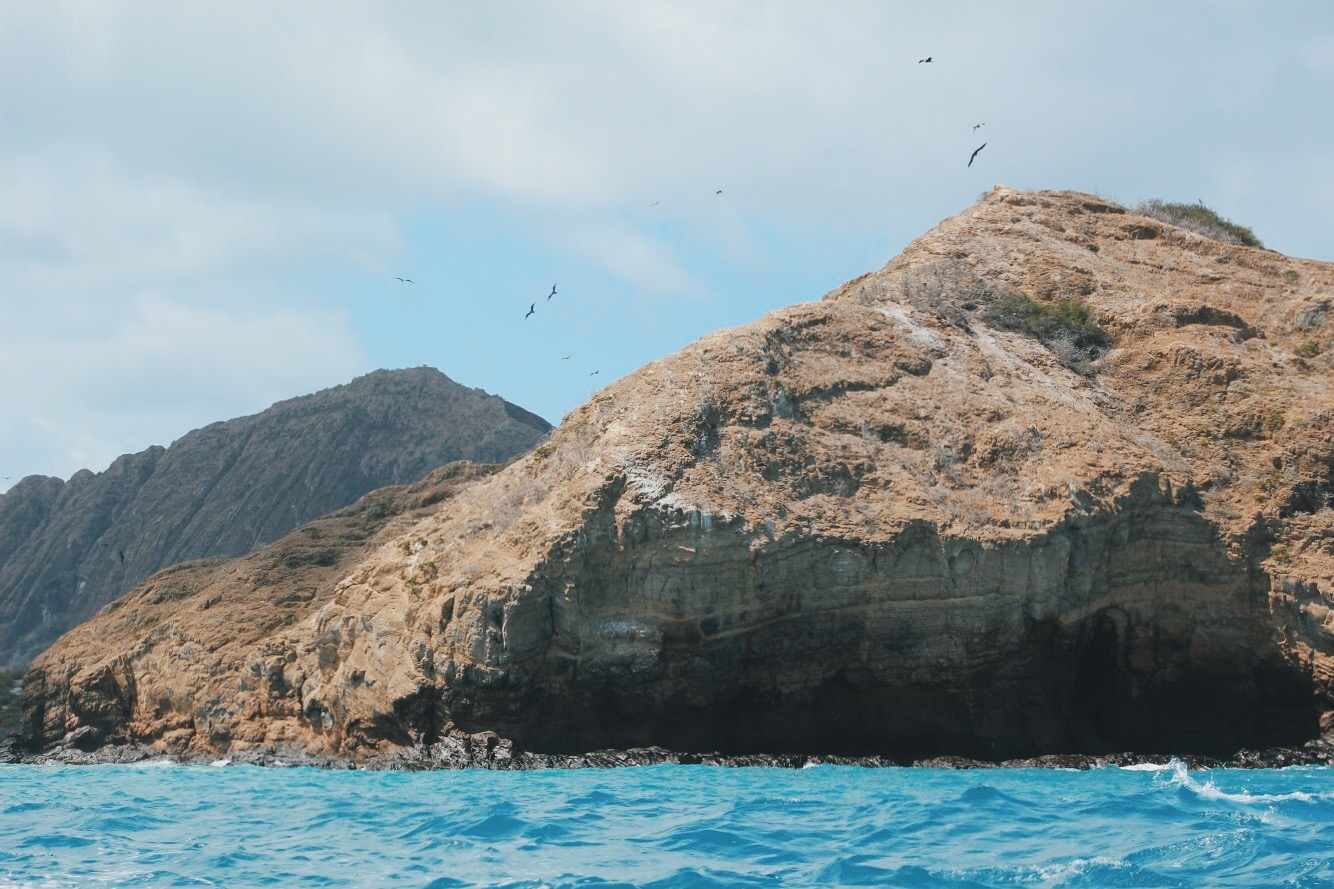 UNFORGETTABLE diy Galápagos itinerary
Getting There
We flew from Quito to Baltra Island airport, a rocky land mass just off Santa Cruz Island. We bought the flights at the start of November for late December as we planned to be there for Christmas.
In relative terms, this was short-notice & the cost was £300 pp return. They were c. £270 pp a month earlier and c. £400 pp in December.
After you land and you spot your first iguanas sunning themselves on the airport tarmac, you head out of the terminal and turn immediately right. There you can find a small kiosk selling bus tickets to Itabaca Channel. Allow yourself to be shepherded onto a bus (they all go the same way) which takes you to a small ferry port. From here everyone is loaded onto boats (we didn't even have to unload & re-load our own bags) and taken across a small channel. You pay the captain $1 and it lasts all of about 5 minutes.
Once across the channel you can then jump on another bus that takes you to Puerto Ayora - the largest town in the archipelago.
The bus -> boat -> bus combo was in total £12 pp (private taxis are available - but ya know… budget).
Day 1
Once in Puerto Ayora, we dropped our backpacks in our hostel (Hostel Galapagos Morning Glory - which we'd highly recommend as one of the more reasonably priced hostels in Santa Cruz) and headed out to visit the Charles Darwin Research Foundation, a 10-15 minute walk from our hostel on the main esplanade (depending how many times you stop to photograph the iguanas lying around in the road). Note that the centre closes at 5pm, but a smile & a chat with the guard should allow you to walk there & back via the beach if you arrive late.
Once at the centre you can walk between large enclosures holding various age-groups of giant tortoise. We were blown away by the number of creatures housed by the centre. From tiny new-borns saved from egg-stealing rats, to fully grown breeding pairs, the Foundation is doing its best to bring all the different Island species back from the brink of extinction (step forward Super-Diego... you stud). They are truly jurassic in nature and we spent a fair amount of time watching these incredibly slow dinosaurs chomp on lettuce leaves, just meters from our feet.
There is also an opportunity to get your passports stamped (YAY!) and a beach very close by - so bring your togs if you go early in the day.
We watched the sunset alongside a yoga class (clearly trying to imitate the casual stretches of the beach sea-lions) before grabbing a few beers and dinner in the port. We headed to bed feeling very happy with our animal count for day 1.
Daily Budget:
Airport Transfer: £24
Exploring the Centre & the beach: FREE
Hostel Galapagos Morning Glory: £38
Beers & Dinner: £30
Day 2:
We started the day by visiting the Puerto Ayora fish market. Here the sea-lions will turn up at exactly the same time as the fishermen and wait patiently for their fair-share of the fish. They draw the crowds and are duly rewarded! Gulls, pelicans & finches are also flying around looking for a treat and the whole spectacle is a great watch over some take away coffee from 1835 Coffee Lab.
We had the morning to spend in Santa Cruz before we caught the ferry to a different island, so we headed to Las Grietas via a taxi boat (£0.70 pp) from the port. Here we swam and snorkelled in 3 pools of crystal clear water and uncountable amounts of fish. We found there was no need to see Las Grietas with a tour & more advice on how to get there can be found here.
After we got back to Puerto Ayora we headed to the ferry terminal and bought 2 tickets for the afternoon boat (2pm) to San Cristobal Island. The ferries go between Santa Cruz, San Cristobal and Isabela Islands, each journey is 2 hours and costs $15pp (£11.50). Be warned...this is a bumpy ride! We sat opposite an unprepared Ecuadorian tourist (who might have been a bit hungover) and were treated to the some of the loudest vomiting we've ever come across. The captain was not phased and handed the poor guy one of many plastic bags he keeps... clearly not the first time this had happened!
After arriving, we once again dropped off our bags at our hostel (Hostal Gosén) and we walked over to Playa Mann, the nearest beach. On the walk we passed sea lions asleep everywhere, and when we arrived at the beach we found… hundreds more! All of them languishing in the sun on the beach or frolicking in the water. We watched baby sea-lions lollop along the sand, their mothers watching with one eye whilst dozing. We concluded that being a sea-lion must be extremely tiring work - such was the volume of catatonic bodies all across the island.
We ended the day with a small dinner in the town, there were many restaurants to choose from...But Pizza won; it was surprisingly good at Giuseppes Restaurant.
Daily Budget:
Breakfast: Included in Galapagos Morning Glory hostel price
Morning boat taxi (return): £2.80
Boat Transfer to San Cristobal: £23
Playa Mann: FREE
Pizza at Guiseppes: £15
Hostal Gosén: £34
Day 3:
We decided to invest in a boat trip around the island, a highly recommended tour called the 360 Tour. It was pricey, but packed in the locations & opportunities to snorkel around San Cristobal. We negotiated to get the price down from $150 to $130 pp (£100).
This is a great tour, and as excellent way to pack a lot into one day. We started the day with our speed boat landing at an isolated beach, followed by a guided walk to a lagoon where the turtles come to mate...no mating happening on that day but we did see a few turtles sunbathing and swimming the lagoon. As always, Iguanas were scattered across the rocks, as finches, gulls and blue-footed boobies filled the skies. We snorkelled the lagoon surrounded by fish and the odd turtle.
More snorkelling at a second beach was followed by deep sea snorkelling at Kicker Rock, a famous dive and snorkel site off the coast of the island. Here we swam and got (almost alarmingly) close to sea-lions, turtles and hammer-head sharks (my god are they weird looking).
The tour varies but usually includes variations of: Rosa Blanca, Punta Pitt, Sardine Bay, Punta Pucana, Cerro Bunjo, and Kicker Rock. Its a 7:30am - 5pm trip and places are usually limited as it's popular. You can book through many of the different tour agencies but we went with: Pacific Tour S.A.
Exhausted, we had a guilty dinner back on shore with enormous burgers at Cri's Burgers. Amazingly it was the busiest restaurant in the town with locals and tourists alike. They were huge, messy & totally delicious.
Daily Budget:
Breakfast & Coffees at Sabor Cuencano bakery : £5
360 Tour: £200
Massive burger dinner: £22
Hostal Gosén: £31
Day 4:
Setting our alarms for an early start we headed out (with Coffees to go!) to hike the Mirador Cerro Tijeretas. This is a 45 minute hike; steep, hot, but worth the effort and the views across the island are exceptional. Plus there is an outsized statue of Charles Darwin congratulating your effort on the way up (to be fair massive statues of Darwin are pretty much everywhere) - Cheers Charlie! We descended to Muelle Tijeretas to cool off in the sea...yet again surrounded by fish, bright red crabs and sharp winged frigates. From here we walked to Playa Carolina; it's a bit rocky here so we endeavoured to find the least spiky seat we could to read our books, whilst trying to avoid sea-lions as they came to investigate who we were and why we were sitting on their rocks.
On the walk home we popped into the Galapagos Interpretation Centre to get a brief history of the islands combined with more information about the unique animals and flora inhabitants. It also gives some information about the many conservation programs that are now running across the archipelago. If you are as geeky as us, this is one not to miss.
All of the above was completely free.
We purchased our ferry tickets back to Santa Cruz for the afternoon ($15 pp / £11.50) and actually enjoyed our trip back... this time we were more prepared, knew that sitting at the back of the boat is WAY smoother & had podcasts at the ready.
That evening we went to Los Kioskos for fresh fish and cerviche. This little street, parallel to the main esplanade, is well worth seeking out; it's away from the fancy restaurants on the front, geared towards cruisers & holiday-makers, and provides a more Ecuadorian experience at a more reasonable price. Plastic chairs and laminated menus thrust at you from all angles shouldn't put you off: the food was fresh and delicious. Afterwards we had a few drinks at a local craft beer bar selling Galapagation brewed beers from Santa Cruz Brewery.
DAILY BUDGET
Coffee & Breakfast: £5
Hike, Beach & Information Centre: FREE
Boat Transfer: £23
Dinner: £18 (£9pp)
Hostal Galapagos Morning Glory: £38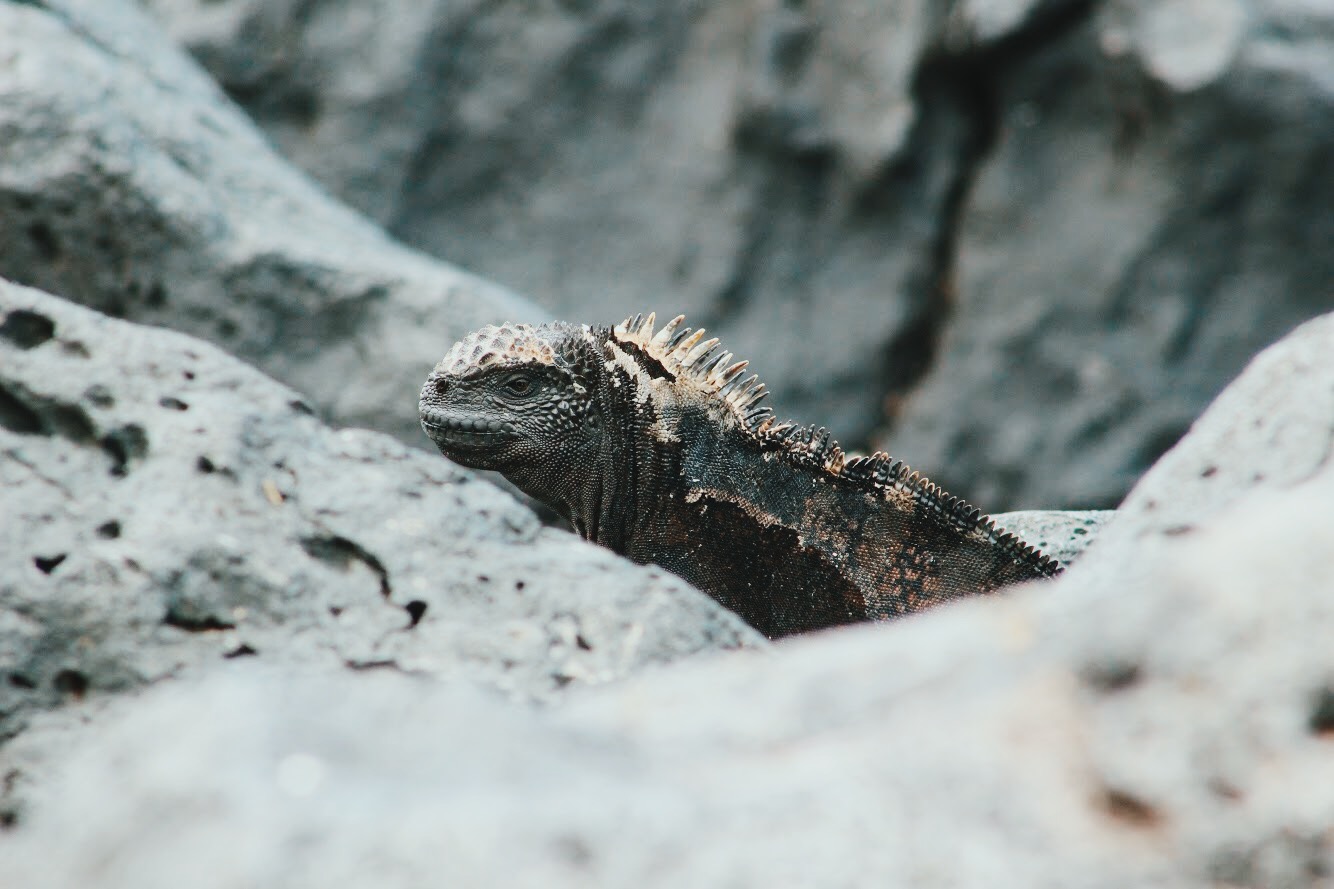 "these imps of darkness… these disgusting clumsy lizards"
Day 5:
CHRISTMAS DAY! Woohoo!
So we had Christmas on the Galapagos Islands, which was a slightly surreal experience. We squeezed in some non-negotiatable UK Christmas traditions into the morning, and then headed out for a day at the beach.
Stopping at a supermarket to buy our christmas lunch (consisting of bread rolls, Doritos, ham, cheese and a bottle of finest Ecuadorian sparkling wine… dubious). We managed to spend £30 here (yikes!) with the the latter being the more expensive of the provisions!
We planned to walk out to Tortuga Bay, one of the best rated places to visit on the island. After buying all our food we discovered that the only way to the beach was by foot... So we set off for our 45 minute walk through cactus filled scrub. After this rather uneventful walk we arrived at the gorgeous white-sanded Tortuga Bay. However, the walking didn't stop there, as swimming here is not allowed (strong currents & high waves makes it too dangerous) we walked the length of Playa Galapagos, a vast beach with a special kind of ultra-fine sand that is extra squishy, before reaching Playa Mansa. This little inland cove is bracketed by dense mangroves, has little to no current and is beautiful; a perfect spot for our Christmas lunch. We walked right to the end for a bit of space from other beach go-ers (not as though it was packed) and set up camp.
There are no permanent building or shops at the beach so bring everything you need with you. We sunbathed, shooed away iguauas, crabs and finches from our sandwiches, went snorkelling and hired a kayak for $10 (£7.50). The lagoon was a little more cloudy that some of our other snorkelling spots, but from the kayak we saw resting sharks and baby turtles, the every present frigates circling above.
A unique & perfect Christmas, rounded off with 2 large plates of Spaghetti Bolognese at El Chocolate, Galapagos.
Daily Budget:
Breakfast: Included in hostel price
Christmas lunch: £30
Beach day: FREE
Kayak rental: £7.50
Dinner: £30
Hostal Galapagos Morning Glory: £38
Day 6:
With one last day before our flight we were up early again (not sure we've ever had an alarm set for the day after Christmas?!) to get over to another beach on the island. We borrowed bikes (free!) from our hostel and set off for Playa El Garrapatero. This is a hidden gem and rarely visited by those based in Puerto Ayora. It was an hours ride, but mostly downhill after Bellavista. After parking our bikes it was then only a 10minute walk to another pure white sand beach with clear azul waters. We sat in the shade and basked in the shallows - if we had spent much more time here, we would have morphed into the sea-lions we were mimicking.
Our hostel had arranged a taxi to pick us (and the bikes) up and take us from the beach to El Chato Tortoise Reserve for around $10 (£7.50) with entrance fee at $3 (£2.50). Our last day and we wanted to squeeze in a few more giant tortoises. We spent an hour watching them roam in the wild, before grabbing some empanadas for lunch ($5 / £3 pp). The centre even organised a taxi for us & our 2-wheeled friends back to town ($15 / £11.50).
We had another fresh fish dinner at los Kioskos and celebrated the last night of a successful trip.
Daily Budget:
Breakfast: Included in hostel price
Bike rental: FREE
Beach: FREE
Chato Reserve: £5
Lunch: £6
Taxis: £19
Dinner: £18 (£9 pp)
Hostal: £38
Day 7:
Usual logistics, as above but in reverse. The only difference being that there is no bus back to the ferry terminal so we jumped in a taxi ($15 / £11.50). We settled in aboard our little plane back to Quito, happily reflecting on what had been a highlight of our trip so far.
Daily Budget:
Breakfast: Included in Hostel Price
Taxi: £11.50
watch the video!
6 DAY DISCOUNT CRUISE (for 2)
6 DAY DIY itinerary (for 2)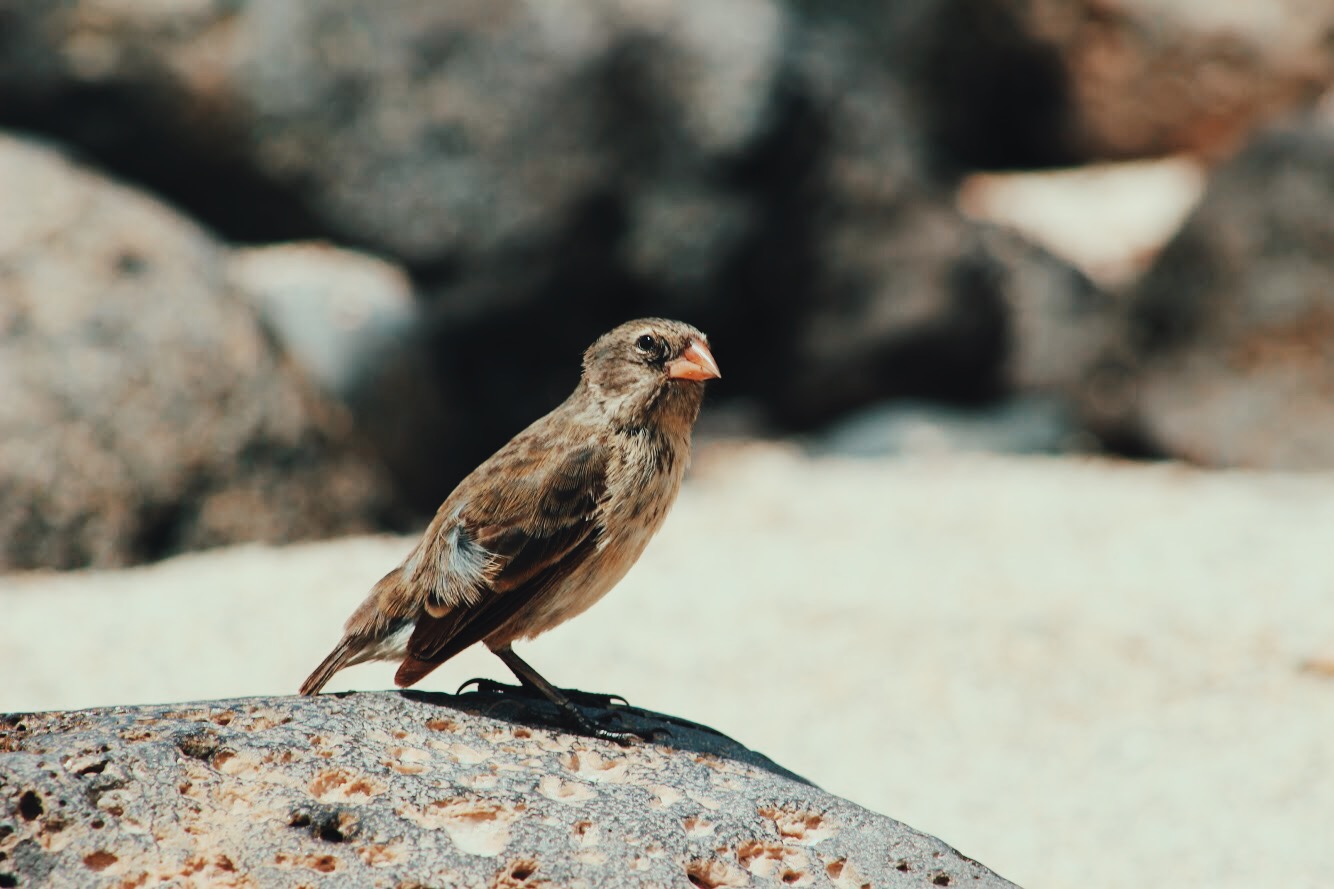 DIY Spend: £713.80
Flights: £600
Entrance Fees & Taxes: £186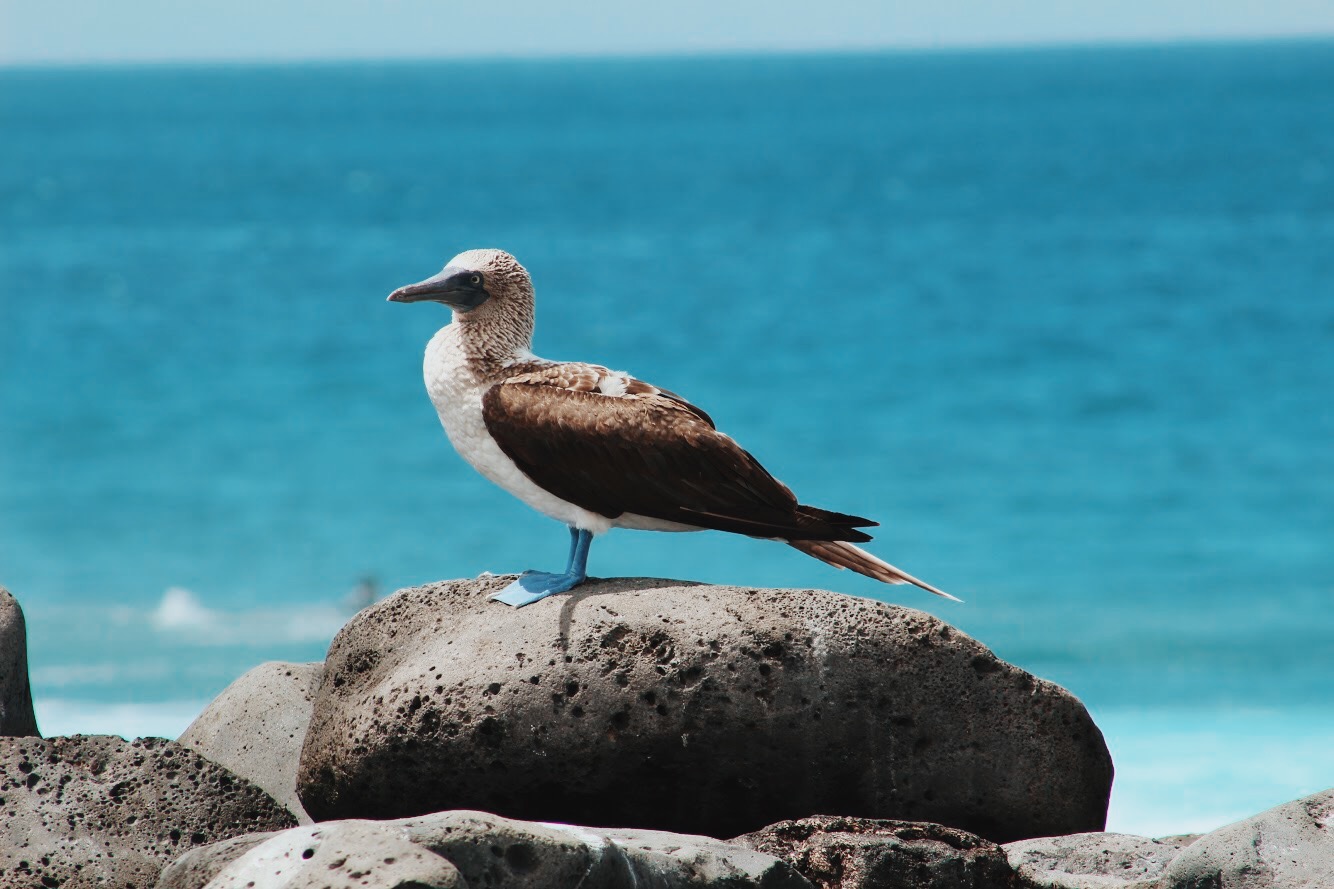 Cruise price: £2,331 (£1,165 pp - the cheapest we found)
Flights: £600
Entrance Fee & Taxes: £186
Certainly not cheap at £215 a day (over our normal daily budget by a factor of almost 4!) but much better value than a discount cruise. You'll also notice that we were hardly frugal with our food choices, stayed in private rooms (instead of dorms), and had a bit of a blow-out on Christmas Day - So there are obviously ways to cut back further.
Despite the unavoidable haemorrhaging of cash in the Galapagos this was a magical trip, and one we wanted to share - if anything to provide the validation that there are other options outside of expensive cruises. This option is about two thirds of the price so we hope it's provided some food for thought.
Have you been to the Galapagos? Did we miss anything from a DIY itinerary? As always we'd love to hear your thoughts!
MORE FROM THE CURIOUS TRAVEL
Up for more adventures from around the world? We're forever writing more about our travels - Have a little look below for more inspiration