HOW ON EARTH DO YOU GET TO CALAKMUL?
Quick synopsis - not easily.
But that happens to be the best bit. As one of the least accessible archaeological sites in Mexico, deep in the untamed Jungles of central Campeche & the Calakmul biosphere reserve, you'll be rewarded for your efforts with tourist-free explorations and, if you're on a budget, a genuine sense of intrepidness.
We'd decided to try and get to Calakmul after seeing some incredible drone footage of the site amidst a sea of dense jungle here.
This is how we did it.
Plan A
A quick bit of research and we found there were a few guided tours & transfers to Calakmul from Campeche, a town on the west coast of the Yucatan Peninsular - about 2 hours south of Merida by car (where we were researching from) & a further 4 hours to Calukmul from there. This seemed the most sensible route & we quickly found tours like the one run by Kaan Expeditions - they offer to pick you up at 5am from your hotel in Campeche, guide you around the site on arrival, and then drop you back in town the same evening. Obviously this sounds pretty straight-forward vs what we suggested above - but after a bit of research we quickly realised this didn't work for us for a couple of reasons:
The ease and convenience Kaan Expeditions offers comes with a bit of a bill, one we weren't prepared to foot (c. £110 per person - our budget for about 3 days)

We didn't want a round trip - after Calakmul we wanted to continue our journey West onto Chiapas & Oaxaca, rather than waste time re-tracing our steps North through Yucatan.
That's not to say this will be the same for others - from the email exchanges & research we did, Kaan Expeditions looks excellent and is very highly rated - if you're only in the area for a short time we would definitely recommend them.
Alas - back to the drawing board for us.
Plan B
So, in a moment of optimism, and after some diligent studying of maps trying to identify the nearest villages & towns, we decided to see how close we could get to Calakmul on our own… And that involved a very different route.
Instead of heading South West to Campeche, we made our way South East to Bacalar - a beautiful lagoon-side town on the opposite side of the peninsular. From there we knew the ADO bus network, or at least one of the second-class buses should be able to get us to a place called Xpujil (pronounced Oosh-pu-jill) - the nearest town to the Calakmul reserve & archaeological site, a mere 1 hour 30 mins drive through the jungle.
After a night spent in a concrete tube at Kulu Tubohostel Bacalar (a story for another day) & a day messing around on the glass-clear lagoon, we went to go and find our bus. We were initially delighted to find that we'd got it right - ADO drive a route from Bacalar to Xpujil - YAY!…. we were less elated to find that it only departs at 1am - BOO. The idea of rocking up in a random rural town in the pitch black of 3am was seriously unappealing.
Plan C
After some language-teamwork (Nick speaking, Steph listening), we instead bought tickets from Bacalar to Chetumal - slightly further south and with more connections. From there we booked tickets for a second bus to Xpujil leaving Chetumal the same evening - and giving ourselves as much buffer time as we could for the connection (given the slightly 'vague' arrivals/departure schedules we'd been experiencing). If all went according to plan we should arrive in Xpjujil at 8pm - plenty of time to find a hotel, get something to eat, and get some sleep before figuring out how to get through the jungle the next morning.
It was all going so well up until the first bus wasn't just late, but failed to turn up entirely.
Plan D
Que a slightly more frantic, rather sweaty & very fragmented journey to Chetumal via the ever-reliable, continuously predictable, and absolutely packed chicken bus (all-hail the colectivos!). By some stroke of luck (and some erratic speeding by the colectivo driver on our behalf), we made our connection.
A total of 6 hours later and we finally arrived in Xpujil - a pretty, picturesque & comfortable town it most certainly isn't.
Xpujil
Xpujil is a road-side town, built along the main highway running horizontally across the Yucatan peninsular. It is the municipal seat of the nearby Calakmul Reserve - home to 24,000 migrant farmers who colonized the area's extensive forests over the past thirty years.
As with similar frontier locations in the state of Chiapas some families arrived through government-sponsored relocation programs that aimed to relieve pressure on farm lands in northern Mexico. Others learned of land availability through word of mouth and squatted until the land they hoped to claim was legalized (via what were known as ejidal or communal grants). As a result, the villages & towns that sprung up along that corridor have a slightly haphazard feel, with Xpujil being the most developed.
Where to Stay in Xpujil
The town is a little unremarkable - as a result, the infrastructure for tourism is limited (there just hasn't been a demand). There is a couple of nice-enough guest houses & hotels if you hunt them out & are willing to part with some cash, but if you're on a budget keep your expectations realistically (read: very) low.
The below is a taster, we've provided a broader summary of options here: WHERE TO STAY FOR CALAKMUL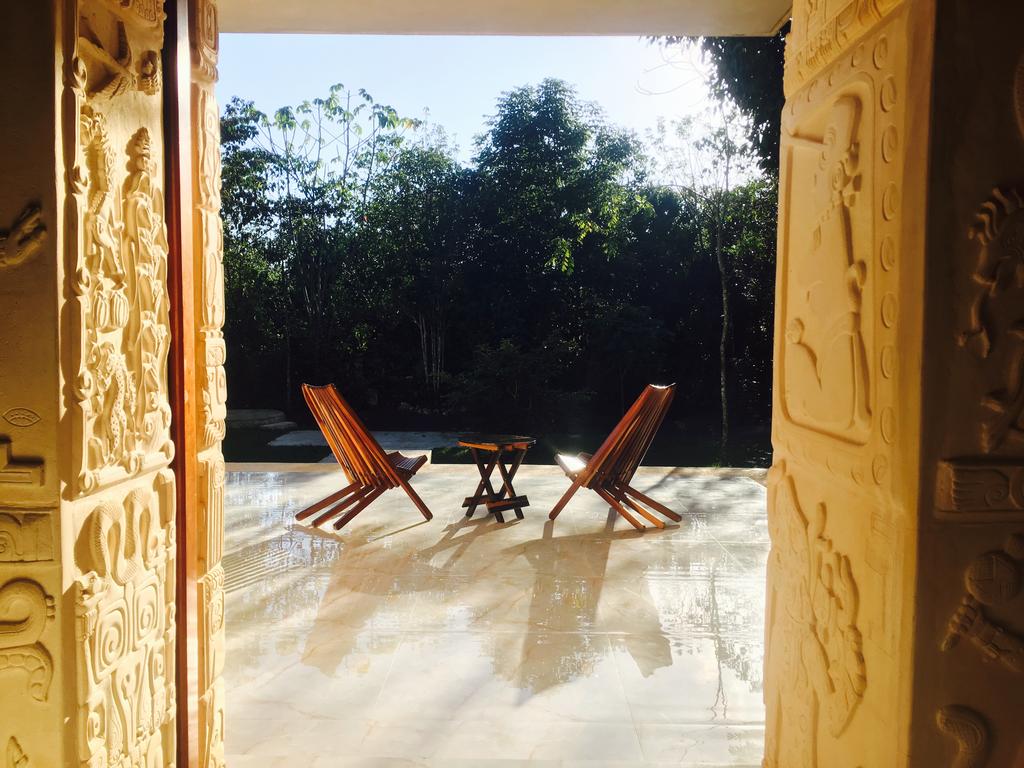 Casa Maya is 7 minutes from the centre of Xpujil. Large, clean rooms, breakfast is included & you have the option of using the free bikes they keep for guests (we don't recommend you try and cycle to Calakmul…). You are quite isolated but if you can arrange a tour to collect you from here, this is probably the nicest option locally.
£62 per night / $1,603 MX - You can use the link above to book.
Chicanna Ecovillage Resort is located an 11 minute drive from Xpujil, closer to the ruins and actually inside the biosphere reserve. It has an outdoor pool, wifi & food onsite. You would need to get a taxi from Xpujil if that is where you are arriving into. Alternatively if you have rented a car - you're good to go.
From £52 per night / $1,323 MX if you book early - link to book
Cabanas Chaac Calakmul offer private double cabins. Basic & clean in the centre of Xpujil. Free wifi, fans + parking available if you need it. One of the guys we met that morning stayed here and recommended it.
From £10 per night / $254 MX - Use the link to book
Another basic, but importantly, CLEAN motel style guest-house around half a km from the centre of Xpujil. It's not luxury but it's modern, bright & comfortable.
We managed to stay in none-of the above (the first two being out of our price-range), but have it on good advice from those we met that the Casa Maya is 'very nice' and the Cabanas Chaac are clean & comfortable - a significant improvement on how we would describe where we ended up…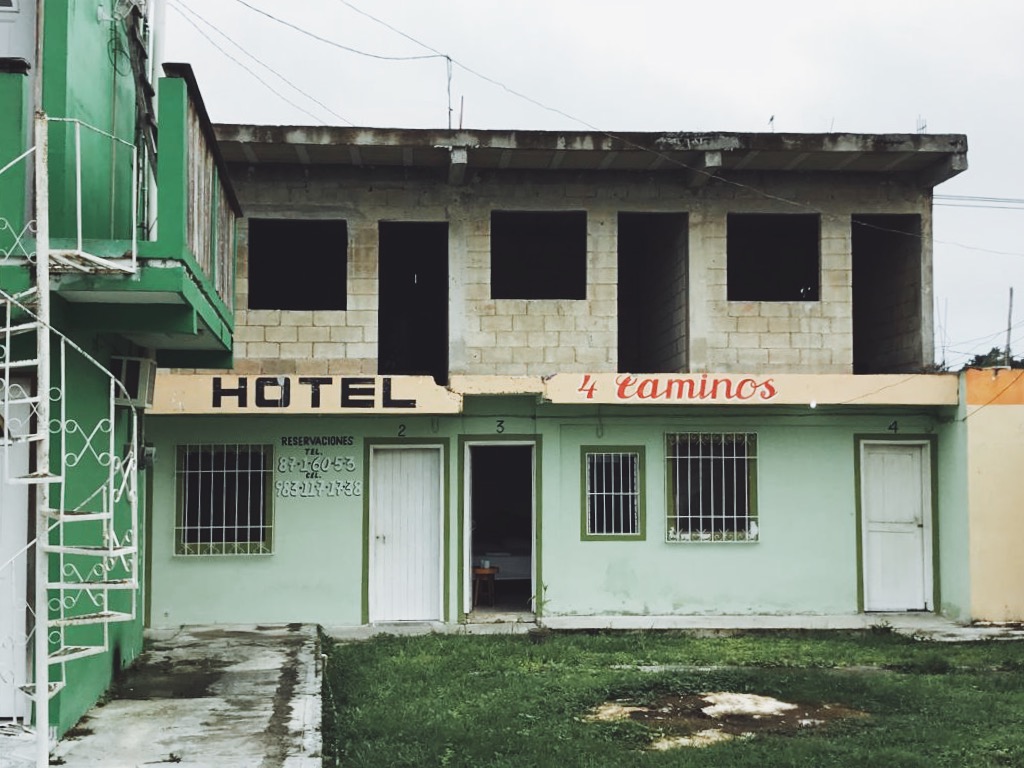 Not on our list of recommendations.
And we're not even being poorly adjusted flash-packer brats here; apart from the holes in the walls that were stuffed with loo-roll, the non-flushing toilet & dirty sheets… Nick managed to leave with an arm full of bed-bug bites.
The silver lining (because there always is one) is that our baseline for accommodation is now incredibly low, so everywhere we have stayed since has been a complete delight!
Getting to the Calakmul site
From what we could tell there were no colectivos or shuttles that ran from town directly to the site. The nearest you could get was the high-way turn-off, which marks the start of the 65km long drive through the jungle to get to the ruins. instead our logic was that once we arrived in Xpujil we'd find a local guide to take us to the ruins, or failing that, admit defeat, spend the money & hire a taxi.
Fortunately, this was actually one part of the plan that worked like a dream.
Admittedly, stepping off the bus in Xpujil in the pitch black and being immediately approached by a hopeful guide was a little overwhelming, but he had the good sense to hand us his card and tell us to WhatsApp him if we were keen. That evening Nick headed over to the cafe he'd also pointed out (owned by his Mum, right next-door to the restaurant owned by his Grandmother) to negotiate the price.
For $1,000 MX (about £40) per person, Abel agreed to pick us up in the morning, drive us to Calakmul, take us on a hour long jungle trek, guide us round the site, provide lunch & snacks and also, as a bonus, get us to a cave for dusk to see a million bats fly into the sunset.
For an extra $800 MX he also offered to drive us to Escarcega that evening to continue our journey.
Sold.
Calakmul Tours with Abel
Abel turned out to be one of the best guides we've ever had. Not only was he incredibly knowledgable, friendly and spoke excellent English, he also has the keenest eyes of anyone we've ever met. As a keen bird-watcher it meant he helped us spot lots of species (not limited to birds) that we may have missed otherwise. He can also imitate a Howler Monkey - encouraging them to give you a bit of an audible treat.
As we descended the main pyramid, a thunder & lightning storm rolled in across the jungle. Watching forked lighting hit the horizon, hearing the howler monkeys signal their warning as the wind started to whip was one of the eeriest experience. As the first torrents hit, we moved faster than was probably safe to get back down to earth.
Abel's standard tour is the one we took (jungle trek, archaeological site tour & bat-cave) but he also offers a slightly more 'rogue' option that involves a 45 minute trip into the jungle on quad-bikes to hunt out some even more hidden ruins. Keep you eyes peeled for Jaguars…!
You can reach him through Facebook here.
And on WhatsApp here: (+521) 983 156 9248
Is it Worth it…?
We're writing a more detailed article about the background & history of Calakmul along with the other Mayan sites we've been lucky enough to visit, but in a sentence…
The Calakmul archaeological site is absolutely spectacular.
Forget Chichen Itza, Uxmal, Tulum - they all pale in comparison to the scale, the drama & the location of Calakmul. Not to mention the fact that the site is almost entirely empty. On the day we visited, there were a maximum of 15 other visitors exploring the site (compare that with the average 3,800 daily visitors to Chichen Itza). You have the added benefit of not only visiting one of the largest & most impressive Mayan sites in Mexico but also having the opportunity to explore an incredible ecological biosphere.
If you have the time (the patience) and even the mildest sense of adventure, try not to miss it.
You won't regret it.
Thinking all this planning and logistics is a bit much?
Sometimes it's easier to book a tour, Click the pic to see if it's what you're looking for.